Bismark Construction Corp - Construction Management
In an industry full of construction management experts, Bismark Construction Corp stands apart by doing something very simple: listening to client's needs and using our expertise to meet them. Our experienced team of professionals customizes each construction management plan that saves our clients time, resources and money.
In the role of construction manager, Bismark Construction Corp acts as the owner's representative in the overseeing of the project from beginning to end. We ensure that the owner's interests are kept paramount at all times and that all project team members accomplish their tasks in a manner that fulfills the owner's vision for the project. To a great extent, we translate the language of the owner and the design professional into the language of the contractor.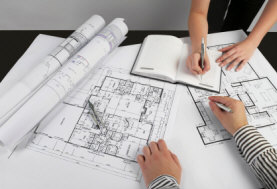 To every construction management project, we apply our capabilities in:
Risk Allocation
Cost Controlled "Schedule of Values"
Critical Path Method (CPM) Scheduling
Management of Contractors
Document Control & Management
Quality Control of Construction
We achieve results by looking ahead - from two-week planning reports to the overall construction master schedule. This shortens the design and construction phases of the project. Our experienced team has the skills and practical experience to adapt to any type or size of project, under any deadline.